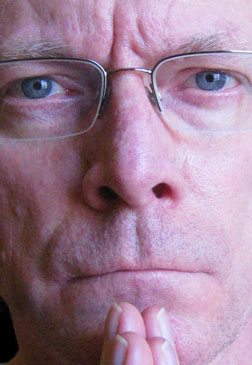 Thomas Terrio holds a Diploma of Collegial Studies in Journalism from Langara College, and a Bachelors Degree in Applied Journalism from Kwantlen Polytechnic University.
He attended the London School of Business and studied photography at the School of Modern Photography in Montreal before working as a professional in the field. In 2004, Thomas was nominated for a Jack Webster Award in Community Reporting.
Thomas is a former board member of several political and business associations. He has worked for a number of private professional community colleges in admissions advising across Canada; and presently tutors English as a Second Language.
Thomas is also an Emergency Medical Responder or EMR, completing his certification at the Justice Institute of British Columbia Paramedic Academy, School of Health Sciences.
He recently completed the Health Care Assistant Program and Medication Administration component at Vancouver Community College School of Health Sciences.

Please submit your story, opinion piece, or letter to the editor, as a Word document. Or simply copy and paste it into an e-mail. Check for both spelling and name errors. Limit your piece to approximately 2000 words. Don't forget to include a phone number and e-mail address for future reference. First time senders are encouraged to include a brief bio.

If you're sending an article, be sure to add the main sources researched in your submission. Please keep the content respectable: This means, no foul language, racial or sexist  remarks.  Every submission is edited for content, clarity, grammar and punctuation.

There is no guarantee your work will be published. Keep in mind any topic is applicable. Compensation is limited to a brief description of the author and a reciprocal link. Send in your story, opinion piece, letter to the editor, or article submission simply by clicking the link and adding your submission. Upon submission of your article, you hereby grant us an irrevocable, unlimited and global license, with no consideration to use, reuse, delete or publish any part at any time. Thank you for your interest in Thomas Terrio's View from the West. 

Our privacy policy is simple: We do not sell or release any subscription or submission information to anyone. Our subscription list is for internal use only. All e-mail addresses are confidential and are not knowingly shared with anyone except with respect to the submission policy above e.g., reciprocal links. To share a concern, advertise on this site, or republish an editorial—please feel free to contact me personally.
Thomas Terrio
Editor/Publisher/Webmaster

Access to and use of this website constitutes acceptance of the following general terms and conditions:

The contents of articles on the website are the sole responsibility of the author(s). Neither Thomas Terrio nor any other party involved in creating, producing, or delivering the website shall be liable for any direct, incidental, consequential, indirect, or punitive damages arising out of your access to, or use of, this website.

Although every effort is made to verify sources and information, the website does not guarantee the accuracy of information provided by external sources and accepts no responsibility or liability for any consequences arising from the use of such data, information, or articles.

While Thomas Terrio's View from the West attempts to maintain a high level of technical operability and security of the website, we inform you that browsing this website is at your own risk.
Therefore, Thomas Terrio does not warrant the functional aspects of the website, nor the information contained in articles or videos that will be uninterrupted or error free; furthermore, that this website and the server which makes it available, are free of viruses or other harmful components.

Thomas Terrio's View from the West may on occasion contain copyrighted material. This material is made available under Canada's copyright provisions of "fair use" for the purposes of reporting the news or criticism, with the sole intent of educating and informing visitors in the hope it will cultivate a better understanding of political, economic and social issues affecting our daily lives.

The material on this website is also made available without profit to those who have expressed a prior interest in receiving it via email or otherwise.

Please make note, Thomas Terrio may change material on the website without prior notice. Do feel free to offer feedback with respect to functional errors or content inaccuracies. Thank you for your interest in Thomas Terrio's View from the West.
Image: Banff, Alberta by Thomas Terrio